The Details
By now, you're probably well aware of the impact of pollution on the planet. But did you know plastic particles also enter our body each day? A growing body of research has observed microplastics in animals and humans. Here's what you need to know about how plastic could be affecting your health.
HOW DOES MICROPLASTIC ENTER THE BODY
Microplastics come from single-use plastic waste, plastic microbeads, and even our clothing. As discarded plastic breaks down, it erodes into small pieces which can then enter our body through our food, water, and air.

MICROPLASTIC IN OUR FOOD

Microplastics enter the food chain when they are ingested by tiny organisms. As larger animals eat smaller ones, microplastics move up the food chain, and are eventually ingested by humans. Studies have found that over ⅔ of all fish contain microplastics - which means that if you eat fish, you're likely consuming microplastics.
MICROPLASTIC IN OUR WATER
Most commonly, microplastic particles enter the body via water consumption. Bottled water contains microplastics from plastic photodegradation, while tap water contains environmental pollutants. The United States has the highest rate of plastic contamination in water in the world, followed by Lebanon and India. A recent study revealed that 94% of US tap water samples and 93% of bottled water sampled worldwide contain microplastic particles. Just how much plastic does your bottled water contain? According to recent studies, each liter of bottled water contains 94.4 microplastic particles.
Microplastics in the Air
In addition to microplastics from meat sources, you're likely inhaling microplastic debris in the air. As plastic pollution breaks down, small particles of plastic float in the air, and we inhale them as we breathe. In 2022, scientists published new findings that microplastics have been found in human lung tissue for the first time ever.
microplastic found in the human body
A groundbreaking 2022 study found microplastics in the human bloodstream for the first time, with microplastics found in almost 80% of participants. While long-term studies have not been conducted on the effects of microplastics on the body, it can be assumed that this pollution is harmful to human health. Scientists have observed metabolic and hormonal disturbance from microplastics, which may lead to weight gain and hormonal issues. Inflammation is another leading cause of concern.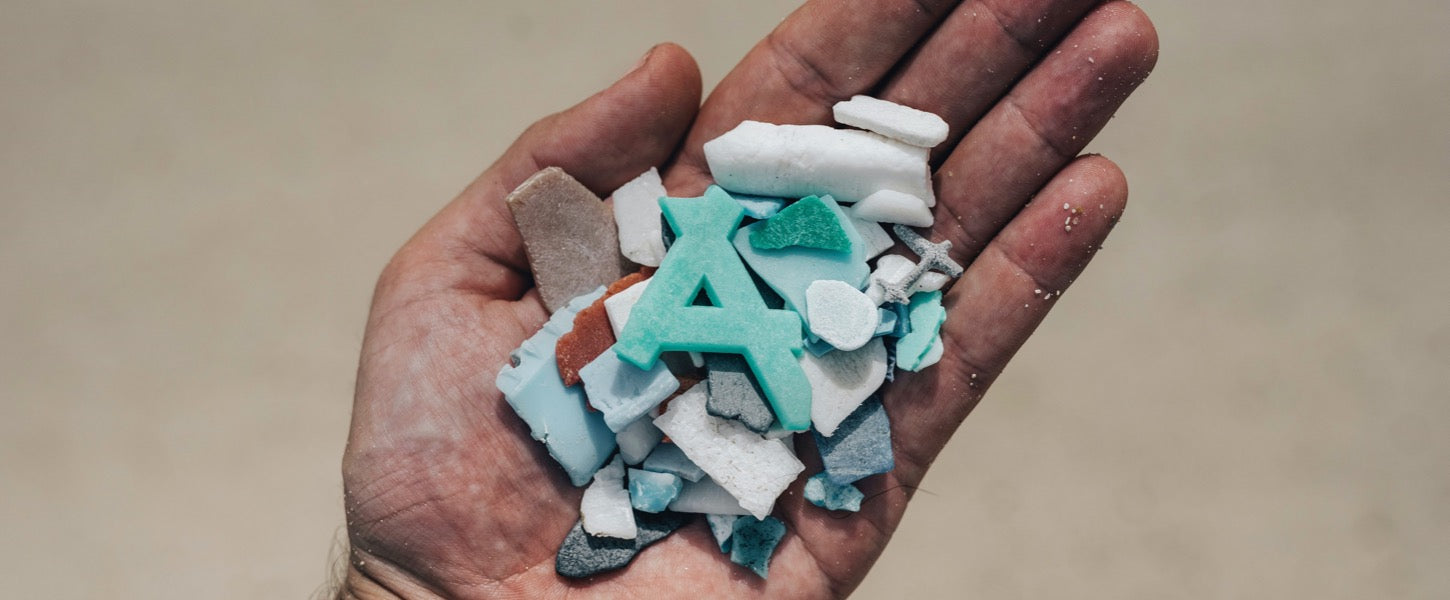 How to Reduce Microplastic Pollution
Microplastic waste is a worldwide problem - luckily, there are small changes you can make each day to reduce the amount of microplastics in the environment and curb the effects of microplastics on your health.
Ditch bottled water. As mentioned before, bottled water is the leading cause of microplastic consumption. By switching from bottled water to refillable bottles, you can significantly reduce the amount of microplastics in your body.
Filter your water. Tap water may contain microplastic debris from larger bodies of water - so be sure to filter your water before drinking. You can buy filters that attach to your faucets, water pitchers with filters, and even water bottles with built-in filters that will reduce microplastic contamination. 
Use plastic-free food storage containers. If you're using plastic bags or containers to store your food, you're exposing your food to plastic which may degrade and shed microplastic. Swap these containers for HoldOn Compostable Zip Seal bags made with plant-based materials (not plastic). 
Swap out single-use plastics all over. Most microplastic stems from larger, single-use plastic items like trash bags and plastic bottles. Using - and throwing away - fewer plastic products means less overall plastic waste in the world, and less microplastic debris left when they decompose. Switching your plastic trash bags to HoldOn Compostable Trash bags is a simple change that has a big impact on how much plastic is in landfills and oceans.
Check for microbeads in your products. If you're using exfoliating body scrubs and washes and even certain toothpastes, you may be using microplastic beads! These tiny particles can be ingested during use (toothpaste) or may wash down shower drains (scrubs and body washes), where they end up in natural bodies of water and re-enter our water systems as drinking water. Cut down microplastic at the source by eliminating products with microbeads from your home and beauty routine.