BAMBOO SANDWICH ZIPSEAL ORGANIZER
BAMBOO SANDWICH ZIPSEAL ORGANIZER
Make a clean break from messy drawers! This handy organizer will keep your zipseal bags neatly stored and ready when you need 'em. Made from 100% bamboo, a renewable material—our zipseal organizer is equal parts sturdy and sustainable.
Product Details

INCLUDES
-1 Bamboo Sandwich Zipseal Organizer
-Measures 7.5" x 4" x 3" (19cm x 10.1cm x 7.6cm)

FEATURES
-Made from 100% bamboo, a renewable material
-Extra thick and super smooth material that's made to last
-Designed to fit HoldOn sandwich zipseal bags
-Size is labeled on top and side, so you can easily grab what you need
-Space-saving design keeps your kitchen clutter-free
-Individual organizers gives you the flexibility to arrange it to your space and needs
-Refillable container keeps your bags organized, so you always know when you're running low

GREAT FOR
-Kitchen drawers
-Pantries
-Countertops
Materials

Made from 100% bamboo, a renewable material that is both strong and sustainable. What's more - we always pack in recyclable, 100% FSC-certified packaging - never plastic.

LEARN MORE
How To Use

Fill your organizer with HoldOn sandwich zipseal bags and place in your kitchen drawer, pantry, or on your kitchen countertop for easy access. Don't forget, our zipseal bags are designed to disappear when you're ready to move on. Simply toss into your compost bin, easy peasy.

LEARN MORE
Subscribe & Save 15%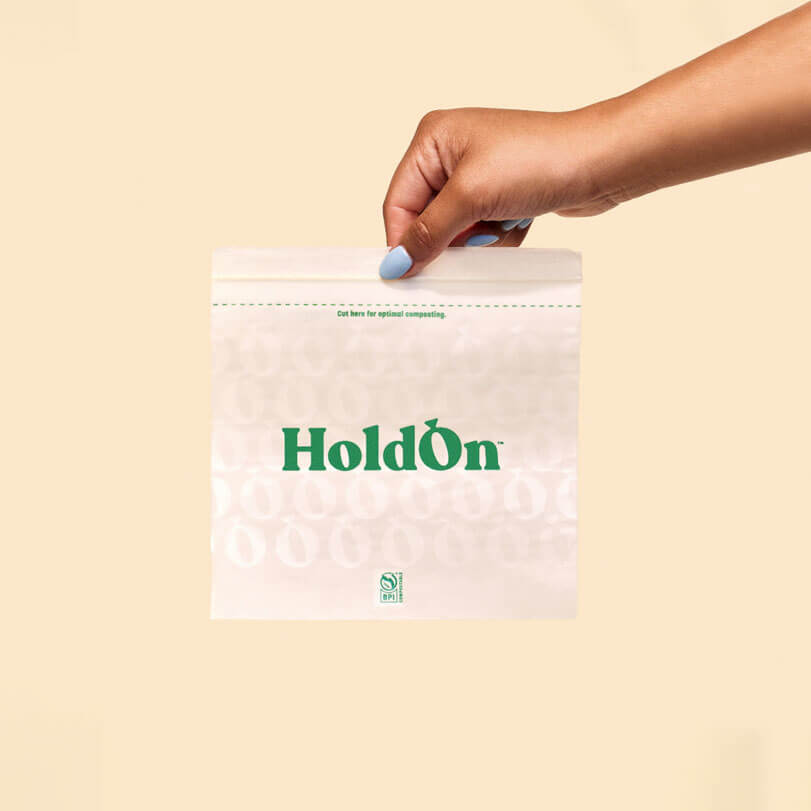 Compostable Zipseal Sandwich Bags
Snack and store, without the plastic-waste guilt
Shop Now

Home Compostable

Plant- Based

Heavy Duty

BPI Certified

Non Toxic


Stash and Store Sustainably
Designed with convenience in mind—keep kitchen drawers organized and your HoldOn zipseal bags neatly stored away in our durable organizers made from 100% bamboo, a sustainable and renewable material.
BAMBOO GALLON ZIPSEAL ORGANIZER

$29.99

COMPOSTABLE SMALL SPACE TRASH BAGS

$13.00

HOUSEHOLD STAPLES SET

$49.99
Did you know?
1 million
Marine animals are killed by plastic pollution each year. We think that's 1 million too many.
Learn More