The Details
Most of us depend on plastic to make our lives more convenient - bottled water with lunch, plastic containers for our toiletries, not to mention all of the plastic that our groceries are packaged in. But once this plastic is tossed, what happens to it? It turns out that much of our plastic waste winds up in the ocean.
The Plastic Waste Problem
There are 5.25 trillion pieces of plastic trash in the ocean and counting. Plastic pollution in the ocean is estimated to reach 600 million metric tons by 2040 - that's as heavy as 3 million blue whales. How do these small pieces of plastic waste pile up in the ocean? We'll break down how your plastic waste is making waves.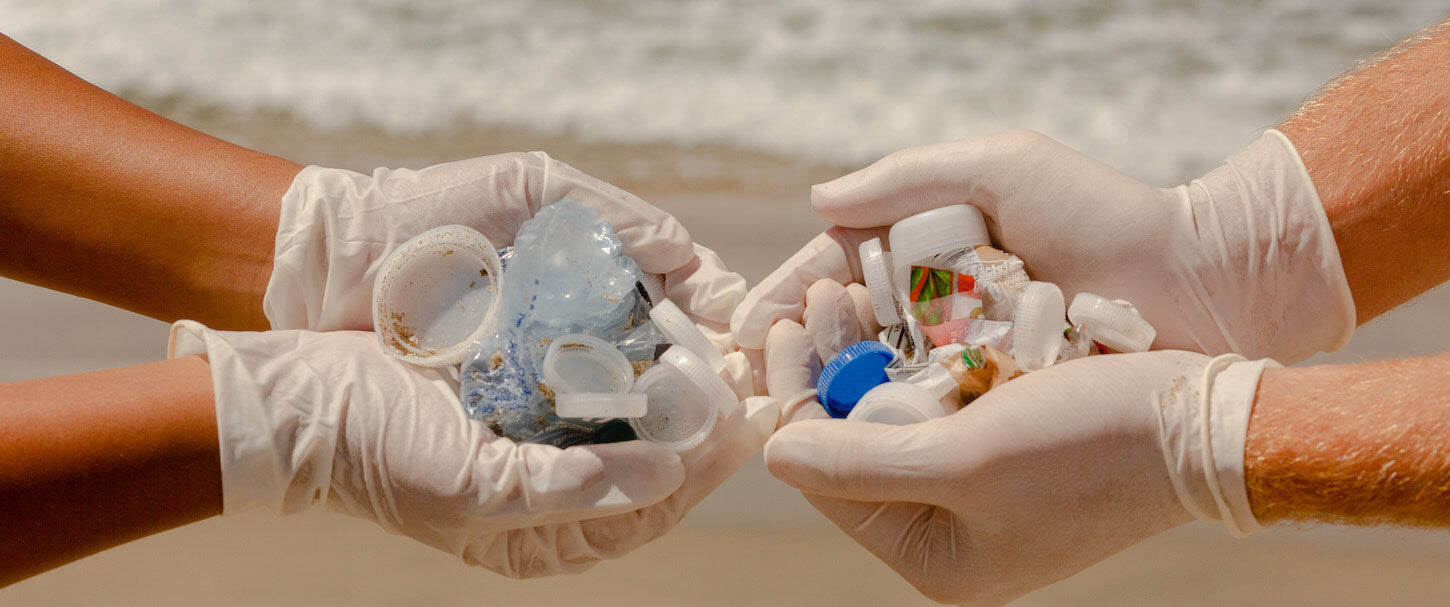 How Does Plastic Get In the Ocean?
As plastic use has increased, so has plastic pollution. Plastic consumption has quadrupled in the past three decades - and it shows. Only 4% of plastic in the United States is recycled - the rest is landfilled, mismanaged, or incinerated. 
Plastic tossed in landfills can be carried into the ocean via wastewater, wind, rain, and floods. Much of the plastic we use daily in rivers, which are carried into larger bodies of water and eventually the ocean. 
Unsurprisingly, pollution on beaches, fishing, farming, and boating are also largely responsible for ocean pollution. Almost half of the pollution in the North Pacific Garbage Patch originated from boats and maritime transport. 
How Plastic Harms Marine Life
When plastic enters the ocean, it can harm wildlife in several ways. Animals may get tangled in wildlife, making it impossible for them to swim and escape predators or impossible to eat. In addition, plastic breaks down over time into microplastic - small shards of plastic - that can be ingested by marine life. This plastic accumulates in wildlife and damages their health. 
FISH. Two-thirds - over 67% - of all fish in the ocean have ingested microplastic. Plastic ingestion can cause intestinal injury and death in fish. Fish at the top of the food chain ingest the most plastic, as the plastic ingested from smaller fish is consumed by larger fish. 
MOLLUSKS. Even small, simple filter-feeders like clams and mussels consume plastic. These shelled creatures ingest microplastic while seeking phytoplankton and diatoms and cannot filter out and avoid plastic particles. In a recent study, 100% of mussels tested contained microplastic particles.
TURTLES. Turtles have famously borne the brunt of plastic pollution. When a clip of a sea turtle with a plastic straw stuck in its nose went viral, plastic straws were quickly banned in favor of paper and compostable options. Turtles can become entangled in plastic, get it stuck in their mouths or noses, and even eat plastic. Studies have shown that turtles ingesting just 14 pieces of plastic have an increased risk of death.
BIRDS. 90% of seabirds have ingested plastic, and it is projected that by 2050, 99% of seabird species will be ingesting plastic. Seabirds consume plastic when they drink water, and fish and other sea critters contain microplastic. This plastic consumption leads to death; current estimates gauge that 1 million seabirds die yearly from plastic ingestion. 
MARINE ANIMALS. Sea mammals, like seals, sea lions, and whales, have also been harmed by plastic pollution. These animals - some on the verge of extinction - often become tangled in plastic or ingest large amounts of plastic, leading to death. One hundred marine animals die from plastic pollution each year. 
How to Fight Plastic Pollution
Luckily, there are things we can all do to reduce plastic in our oceans. Of course, the most effective way to reduce plastic that enters our ocean is to decrease the amount of plastic you use and throw away overall. If you don't already, be sure to recycle the plastic that you must use.
When you have to use plastic that cannot be recycled, dispose of it properly - never leaving it behind on beaches or nature trails. Remember to 'leave it better than you found it when entering the wild. In addition, you can make an impact by performing a beach cleanup with friends and family. If you're feeling inspired, take action with our quick-start guide to clean up!